Omigosh, this has been the longest process getting this website up and running; I can't believe how long it has taken! I am LUCKY to have fallen in love with someone who could set it all up for me, but that meant I had to be okay with the design first. I am a picky designer so finally after months, many helpful opinions from friends near and far (thankyou-- you know who you are!), it is ready to go!
Please let me know if there is anything you think could run more smoothly; it is a work in progress, and feedback only helps things be the best they can be!
Amidst all this website design I have been knitting, of course! I've got A LOT up my sleeve!
Circulate, my latest beaded design is a moebius shoulder cowl, done in a garter stitch lace pattern with beads incorporated on the border. After it's grafted into a moebius, you then attach a beaded i-cord all the way around the edge of the whole piece. This scarf is a quickie to knit up, much less "fiddly" than the undulating waves scarf!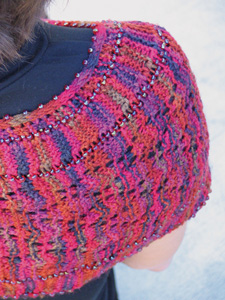 My second new design is Hover. Hover is done with one skein of Schaefer's Helene, one of my favorite yarns of theirs to knit! It's a worsted weight single ply wool/silk that is pure luxury to work with. The stitch pattern for Hover is unique with double yo's and dropped wraps that create beautiful texture and movement throughout the scarf. This is a great quickie for holiday presents!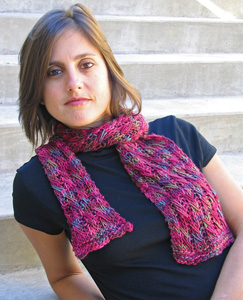 I've got socks on my needles, out of Schaefer's newest yarn, Nichole, which hasn't been released yet! And a fabulous mock t-neck tank in Susan, which I am currently obsessed with seeing knit up in Heather too. I'll tell you more about these new patterns later! Oh, and another beaded wonder in Susan, stay tuned, you won't be disappointed : )