Blog Tour: More Knitting in the Sun
Welcome! Thanks for coming by for the next stop of the More Knitting in the Sun Blog Tour by Kristi Porter. I loved reading Talitha's post from yesterday... I got caught in a rabbit hole and spent quite a while reading her posts, I love her style of writing, so lyrical!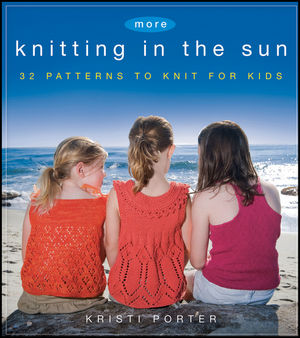 Carol Sulcoski did a wonderful overall review of the book on the first stop of the tour so I think I'll share with you a bit about the design I did for the book!

Introducing Frances....
Frances is a delicate lace poncho, built from two rectangles that are whip stitched together. I used Schaefer Yarn Heather in apple green which has the perfect drape and durability for a project like this.
In my experience, girls love wearing ponchos. There is something irresistible about being wrapped up in a lacy blanket that is designed to stay put while you play!
I have made them for my girl ever since she was small. She recently grew out of the latest one and is hoping we get Frances back soon so she can add it to her ever growing wardrobe of mama knits... this design is perfect for her!
All the patterns in this book are named for characters in well loved children's literature. I'm not going to tell you who this Frances is just yet as there is a contest being announced on May 13th that you'll need the answer for... but you can start guessing! I'll give you a hint, it's a series of books that was originally published in 1960 that are classics today. The character was a favorite of mine, and my girl's! Not only that but my paternal grandmother, who I loved dearly and passed on when I was 5, is also named Frances. This name means so much to me!

Continue on tomorrow for the next stop on the blog tour at Carol Feller's....